Voted

the best

healthy food delivery service
Tired of prepping the same, boring weekly prepared meals? Wanting healthy lunch ideas but not sure where to start? Whether you're trying to lose weight or eat more healthily, we make it simple for you to enjoy chef-created meals, every day.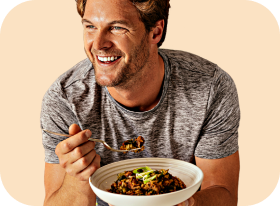 Goal focused
Supports weight loss
Nutritionally balanced to help keep you strong and energised
High protein, low sugar & under 520 calories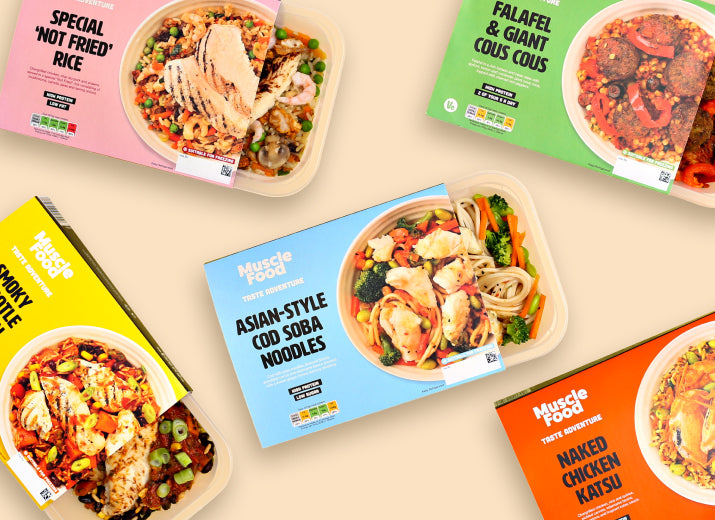 Convenience
Save time every week - no shopping, prepping or dishes
Pre-portioned and calorie controlled
Zero meal prep required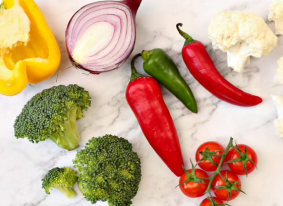 Quality
Good-for-you ingredients

Variety of protein sources including plant-based options

Frozen to cut down on food waste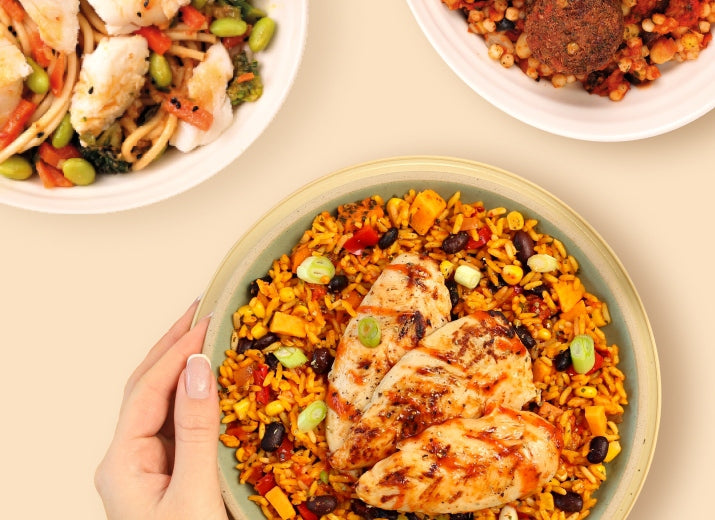 Variety
Choose from global cuisines, family favourites and many more...
Irresistible meals loved by fussy eaters
A rotating menu of new recipes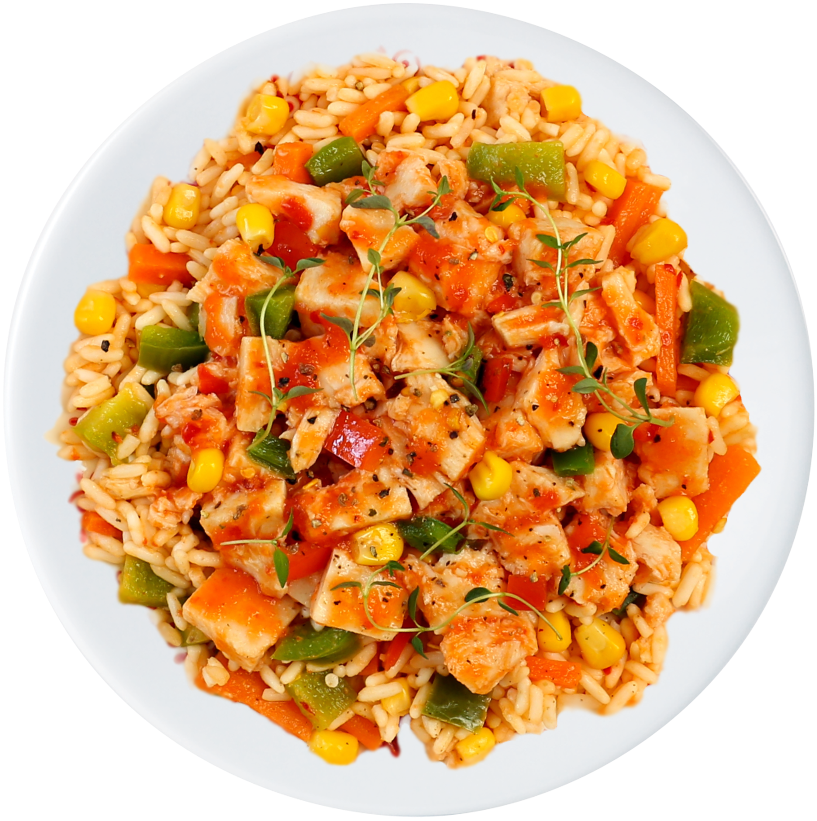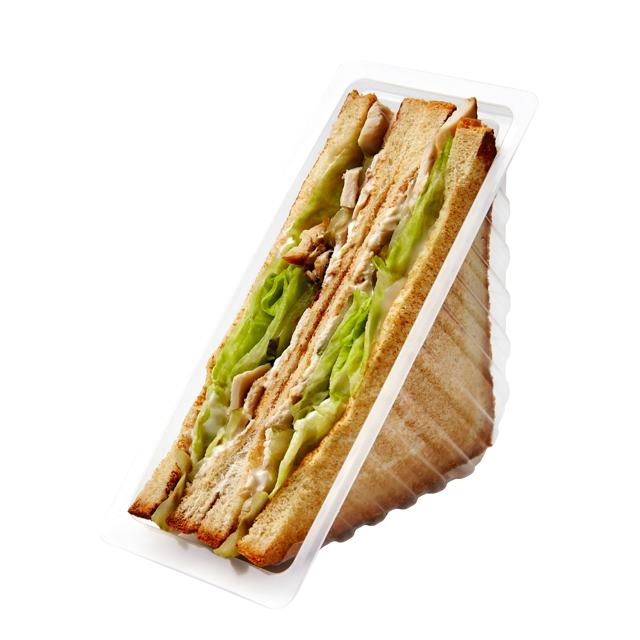 Calories: 360

Protein: 36g

Fat: 3.3g

Salt: 1.4g

Price: £2.49
Calories: 435

Protein: 21.8g

Fat: 17.3g

Salt: 2.23g

Price: £2.80
We believe eating healthy should be easy

for everyone
A new survey has revealed that picking up a meal deal for lunch can add more salt to your day than a Big Mac and fries. Imagine if you didn't have to decide between eating healthy and convenience? After years of development, we're filling your fridge with calorie balanced meals that are just as delicious and convenient as any shop bought meal deal - keeping you energised until dinner.
I used to spend all day in the kitchen on Sundays meal prepping, when I didn't have time I would opt for meal deals during the week. Prepped Pots has been able to save me so much time and keep me well fed 💪
Lunch has never tasted

so good
When it comes to lunch, you've got a lot of options. Some offer convenience, some offer nutrition, and some offer the foods you crave. We offer all three. For less than the price of a takeaway, you can indulge your taste buds in a global menu of authentic dishes that are catered to your goals.
New
444 kcal
Smoky Chipotle Chicken
🌶️🌶️
Chicken with rice, black beans, sweetcorn and sweet potato in a tomato and chilli sauce.
2 of your 5-a-dayLow sugar31g proteinSource of fibreLow saltUnder 45g carbs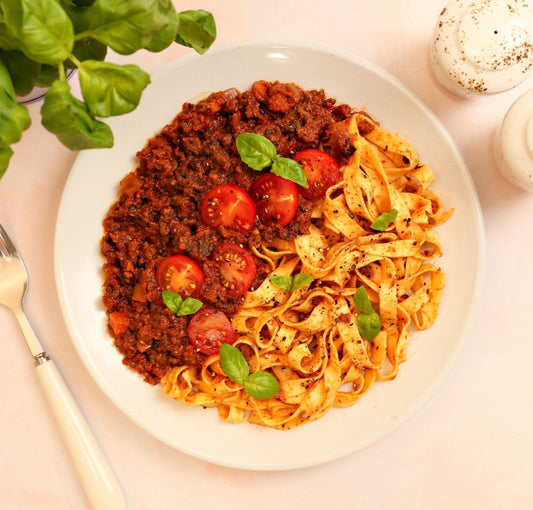 454 kcal
Beef Ragu & Cherry Tomato Tagliatelle
Minced beef, mushrooms and carrots with tagliatelle and tomato sauce.
Low sugar24g proteinUnder 50g carbsUnder 20g fat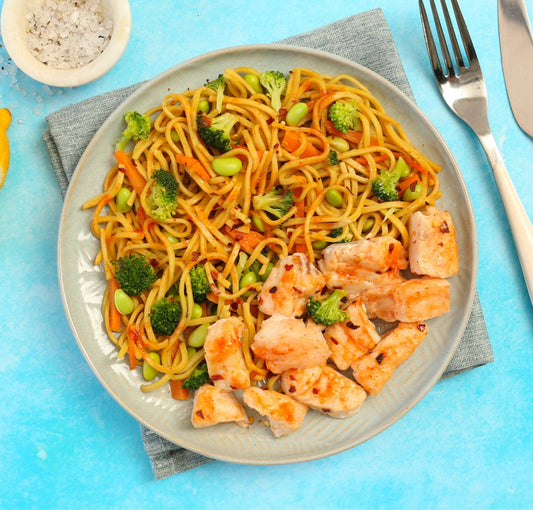 444 Kcal
Asian-Style Cod Soba Noodles
Cod with soba noodles and seasonal vegetables in a ginger, honey and soy dressing.
1 of your 5-a-dayLow sugar29g proteinUnder 40g carbs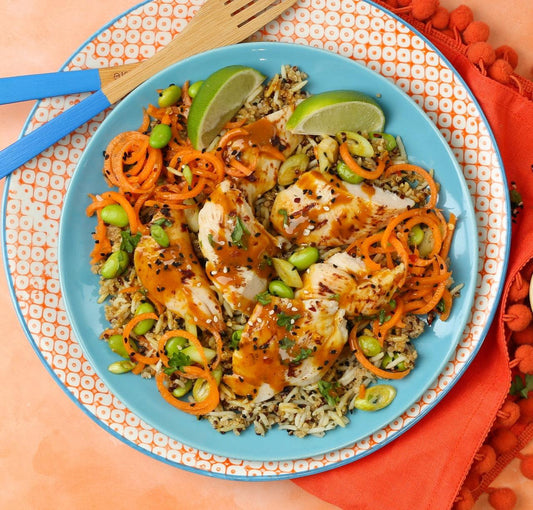 416 Kcal
Naked Chicken Katsu
Chargrilled chicken, fluffy rice and quinoa, and edamame beans in a tangy Katsu sauce.
1 of your 5-a-daySugars-Free33g proteinSource of fibre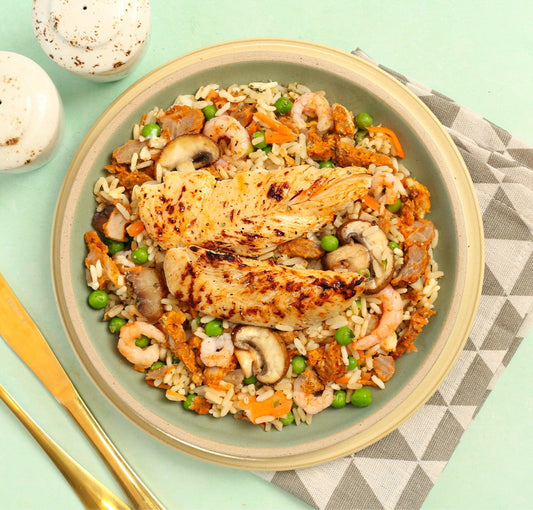 New
385 Kcal
Special "Not Fried" Rice
Chicken breast, sweet Char Siu pork and prawns are teamed with mushrooms, carrot, and peas in our 'not fried' rice.
Sugars-Free31g proteinUnder 400 kcals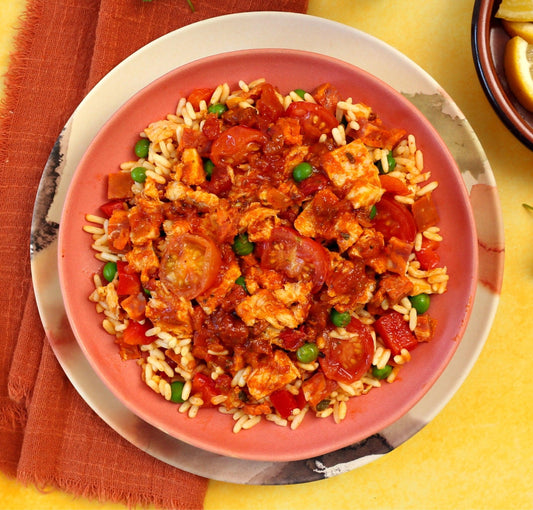 460 kcal
Chicken & Chorizo Paella Pot
Chicken breast and chorizo pieces in a rich paella sauce with rice, garden peas, semi dried cherry tomatoes and diced red peppers.
Low sugar35g proteinUnder 35g carbs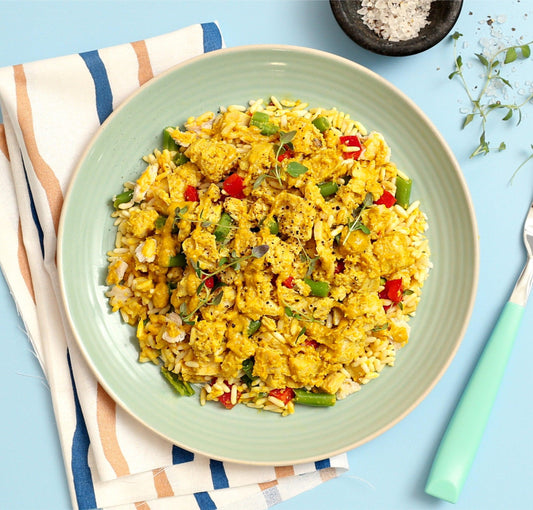 355 kcal
Satay Chicken & Rice Pot
Chicken with rice, peppers, and green beans in a satay style sauce.
Sugars-Free30g proteinLow fatUnder 40g carbsUnder 400 kcals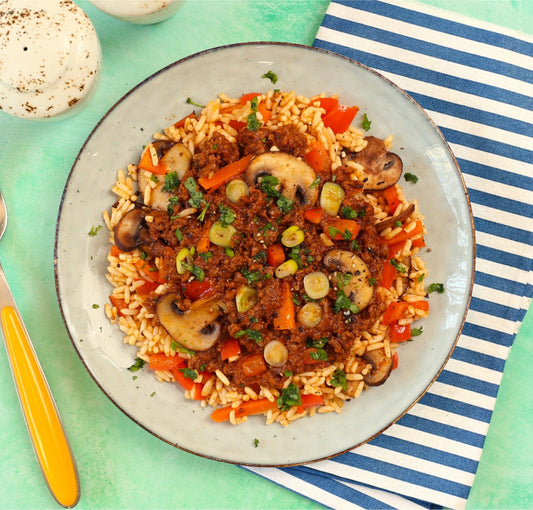 304 kcal
Cajun Beef & Rice Pot
Cajun spiced minced beef with rice and mushrooms, peppers and carrots.
Low sugar1 of your 5-a-day21g proteinLow fatUnder 40g carbsUnder 400 kcals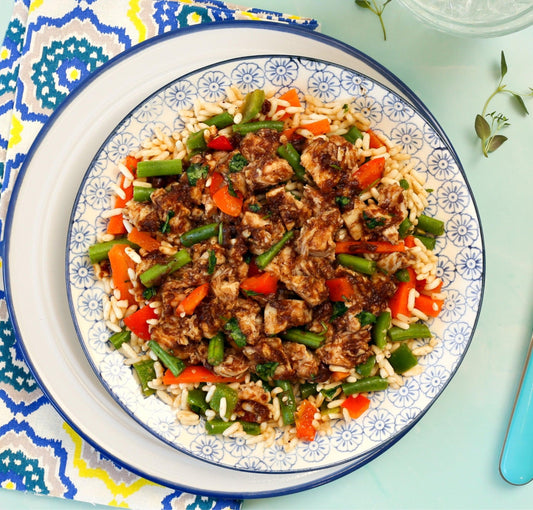 280 kcal
Black Bean Chicken & Rice Pot
Chicken in a black bean sauce with rice, green beans, carrots and red peppers.
Low fatLow sugar28g proteinUnder 40g carbsUnder 400 kcals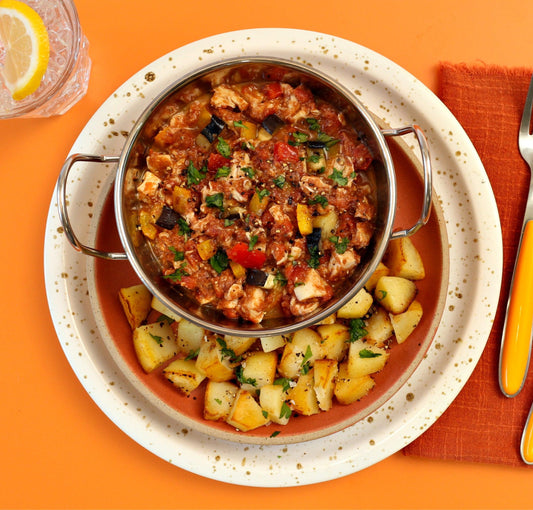 365 kcal
Butter Chicken Pot
Chicken with a creamy butter sauce, sautéed diced potato, diced peppers, and grilled aubergine.
Low sugar32g proteinUnder 30g carbsUnder 400 kcals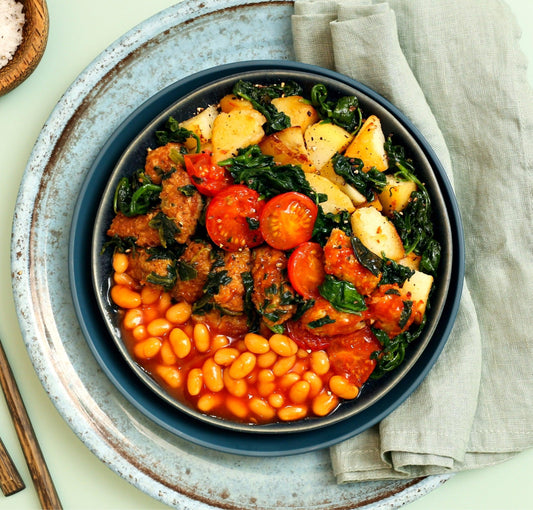 318 kcal
Meat Free Bean & Potato Pot
Chicken-style soya sausages with beans, cherry tomatoes and spinach.
Vegan1 of your 5-a-dayLow sugar24g proteinHigh fibreLow fatUnder 25g carbsUnder 400 kcals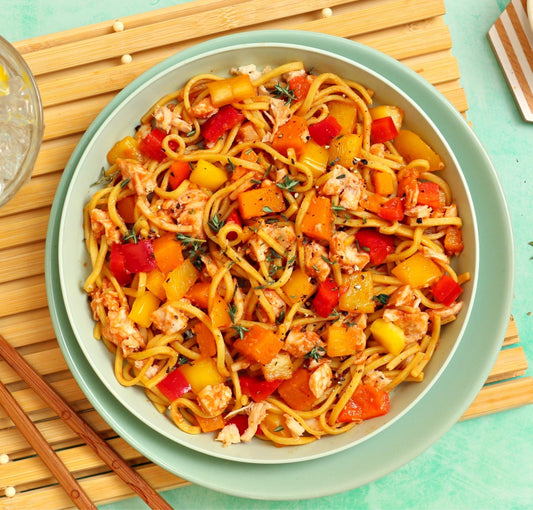 314 kcal
Curried Noodles with Meat-Free Chicken Pot
🌶️🌶️
Chicken-style soya pieces with curried noodles, butternut squash and peppers in a spicy tomato sauce.
VeganHigh fibre27g proteinLow fatUnder 30g carbsUnder 400 kcals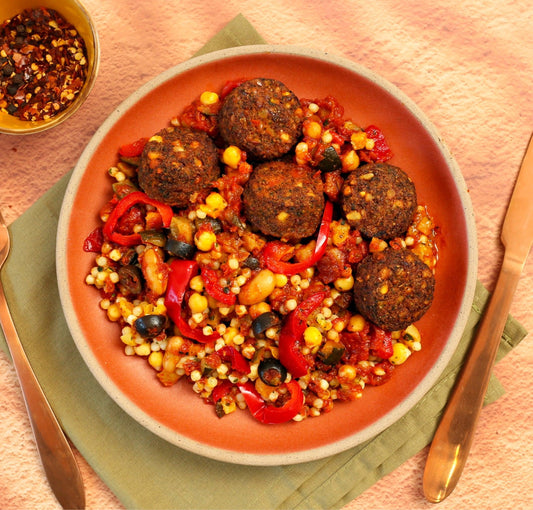 New
514 Kcal
Falafel and Giant Cous Cous
Falafel in a tomato and bean stew with apricot, lemon and coriander cous cous
2 of your 5-a-dayVeganLow sugarSource of proteinHigh fibre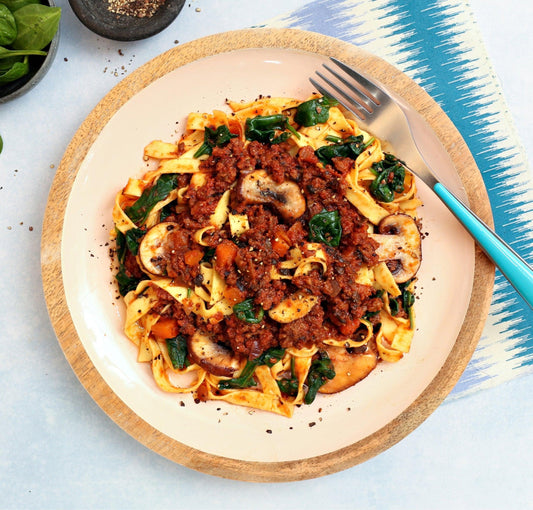 408 kcal
Mushroom & Spinach Bolognese Pot
Mushrooms, spinach and minced soya pieces with tagliatelle and tomato sauce.
Vegan1 of your 5-a-dayLow sugarSource of fibre26g proteinLow fat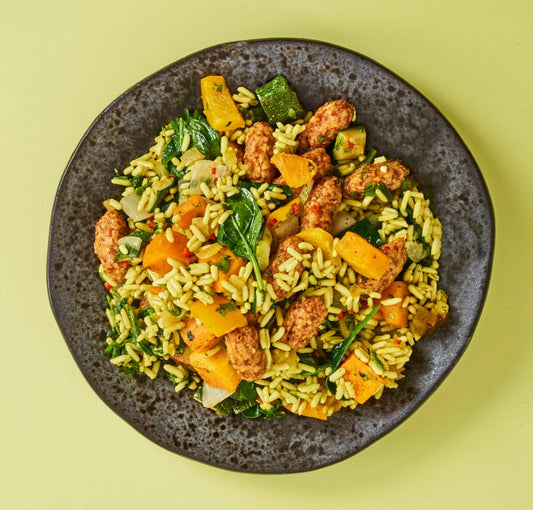 431 Kcal
Levi Roots Veggie Veggie Pot
Chicken-style soya pieces with rice, courgette, butternut squash and peppers.
Vegan1 of your 5-a-dayLow sugar29g proteinUnder 50g carbs "The best healthy food delivery service for fitness"

"I spent next to no time preparing food and was able to see really great results."

"Honestly, I enjoyed everything, mostly the fact I didn't have to worry about calories"
Tasty food that's

convenient

? Too right!
Unlike meal kits that require an hour or two of cooking and cleaning, we do everything for you. What's more, we also take care of the midday rush and evening crush with nourishing lunches and dinners - all ready in minutes. So, when your box arrives, all you have to do is heat and eat.
| | | | |
| --- | --- | --- | --- |
| Fully prepared, ready in minutes | | | |
| | | | |
| Zero planning, prepping or cleaning required | | | |
The food you crave, the nutrition

you need
Whether you're looking for nutritious healthy pre-made meals, cooking for one - or just plain tired of cooking altogether - we offer you low-lift lunches, and done-for-you dinners as an effortless alternative to everyday cooking.
Trusted by over

100,000

real customers
Join our lunchtime revolution and enjoy tasty, wholesome lunches delivered straight to your door. But don't just take our word for it…
Ready to shelve the meal deal?
Make the change today to enjoy an an array of chef-designed, ready-to-heat meals with a special focus on healthy, balanced eating 🙌
Your questions,

answered.
Want to learn more? Don't worry, we've got more information on our support centre
Are your meals frozen?

Yes, our meals are frozen to lock in the nutritional goodness and reduce wastage.

They will arrive with you either frozen or chilled and can be stored in your freezer until it's time to cook and enjoy!
Where do you deliver?

If you live pretty much anywhere in the UK – we will deliver to you. Hurrah!

But of course, there are some Extended Delivery areas of the UK where we have some limitations on available delivery days, which you can see here.
What is the use by date of the meals and how do you store them?

All of our prepped meal pots are suitable for home freezing and can be cooked in the microwave directly from frozen.

Our meals will arrive with a minimum of 3 days shelf life, so please ensure that you freeze the pots appropriately (all of our pots can be cooked in the microwave directly from frozen or defrosted in the fridge and cooked from chilled).
Can I change my delivery schedule or meal selection after ordering?

Yes, absolutely!

You can manage your subscription in your account area after ordering. Here you can see any scheduled and future deliveries, change your meal selection, as well as pause, skip or cancel your subscription at any time.